Beauty & Wellness Center in the Heart of Limassol
Indulge in an atmosphere of total luxury and relaxation in our beautiful spa center.
Medichic Center is an innovative center 500 m² and is located in the center of Limassol (Near Debenhams Apollon Makarios).
Our twenty year experience in the sector of beauty guarantees the best treatment with products bearing the stamp of leading companies without costing you a fortune!
Our facility will impress you for its excellent aesthetics and harmony and for the conditions of hygiene and protection.
Our company was created in the middle of the global economic crisis, to make beauty accessible to the customer, by bringing them close to a beautiful environment with private spaces and with treatments that aim at making effectiveness and satisfaction reflect on your face.
We look forward to meeting you in person!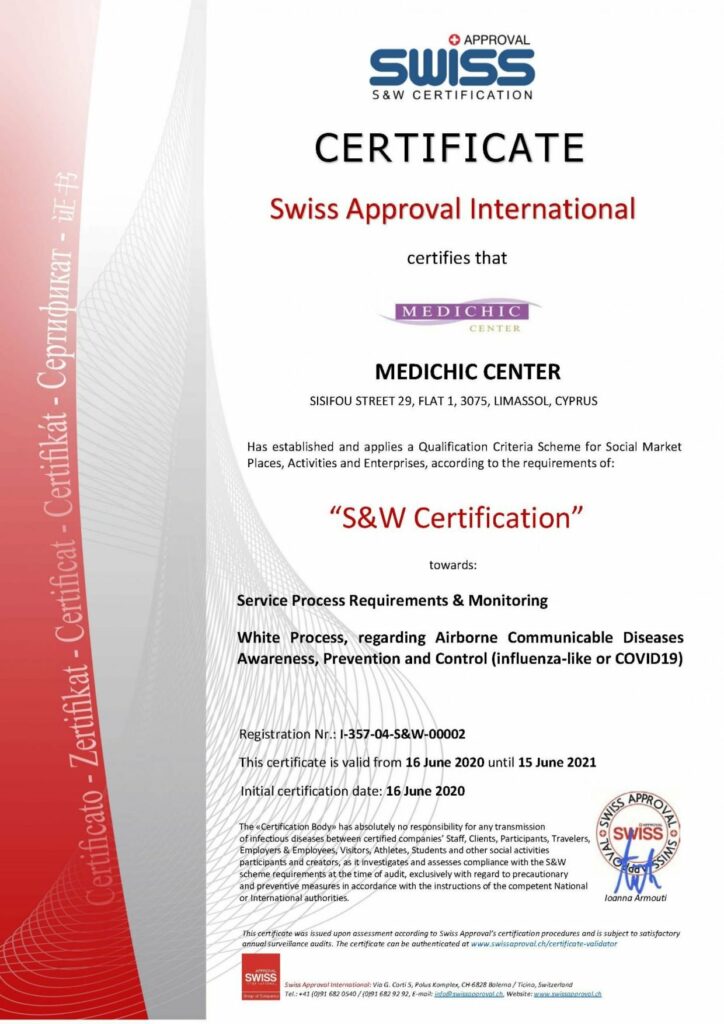 Swiss Approval's S&W certification standard against Covid-19 was acquired by the Medichic Center.
Cyprus Business Certification announces the certification with the S&W model of Swiss Approval, the luxurious beauty center.
The Medichic Center is a complete beauty center, offering body, face, massage, hair removal, nail care, hairdressing and aesthetic medicine services.
Cyprus Business Certification undertook the preparation and gave the compliance guidelines to be followed by the independent certification inspection. The Medichic Center becomes the first luxury beauty center that certifies its location in Limassol, against Covid-19 and other communicable diseases, in accordance with the necessary protocols for protection and health safety.

 We offer high quality services at the lowest prices on the market.

 Our facilities are located at a central spot of Limassol and that offers easy access to our Cente

Our services are provided in a hospitable and private environment within a distinctive musical harmony.

Innovation
We provide innovative, high-level services.

Strict Hygiene Standards
We implement strict hygiene standards.

Professional Products
Selected professional dermal products are used.

High Tech Therapies
The center is equipped with the latest technology machinery.

Expertise
Experienced and well-trained staff with years of experience in the field.

Parties & Activities
We organize Spa Parties, Kids Activities, Hens & Bachelor Parties.